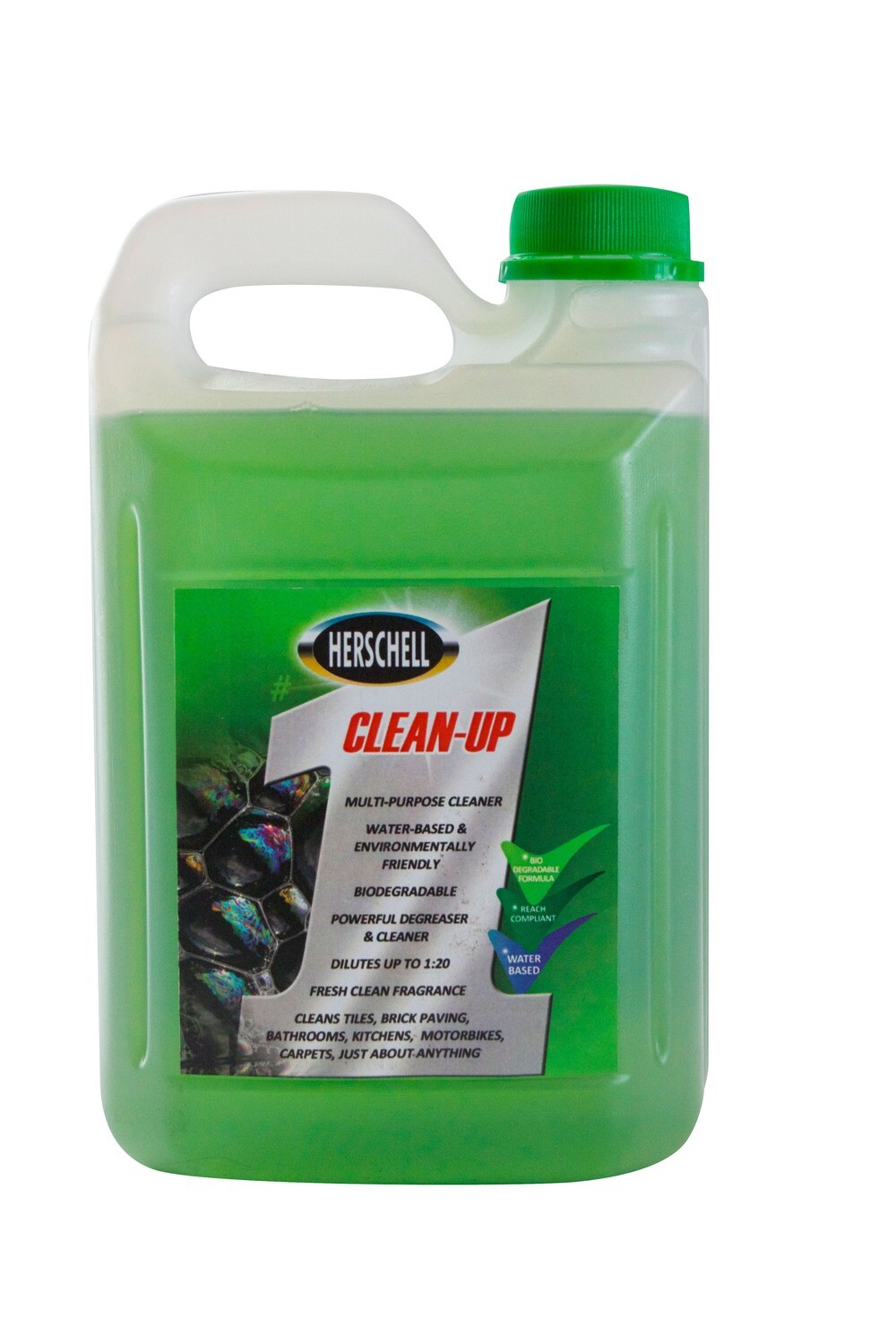 HERSCHELL Cleaners CU Clean up 2L
SKU 11 700 0702
Product Details
Herschells 40 years of experience in the lubricant industry. Proactive, technical back-up service manufactured in South Africa. Formulated in accordance with stringent European environmental specifications. Products are TRIC and PERC Free using non-carcinogenic formulations.
Essential for at home, work and play.
Sports & Recreation

Water based
Fresh Fragrance
All-purpose cleaner
Dilutes in water
Home & D.I.Y (Do it Yourself)
You'll never be alone on the job with Herschell's D.I.Y. solutions at your side!
Water based
Fresh Fragrance
Powerful degrease suitable for vehicles, tiles, carpets, paving, cars, bathrooms and other hard surfaces
Cleaning
Water based and biodegradable
Fresh Fragrance
Powerful degrease suitable on machinery, factory, surfaces, tiles, paving and bathrooms
Conforms to REACH specifications
Benefits
Concentrate - can by diluted up to 1-20 with water.
Environmentally friendly to fish and plants
Power detergent - cleans away oil deposits
Suspending agents to flush away solids i.e.. Silica, graphite etc.
Plastic friendly
Low foam
Strongest detergent effect at 1-5 with water
APPLICATIONS
For cleaning engines of :
Automobiles
Domestic floors
Braai grids
Ceramic tiles
Kitchens
Carpets
Marine equipment
Motorbike
METHOD OF APPLICATION
Use neat or dilute up to 1 - 9 with water. Apply with a brush or spray, or a high pressure cleaner.
For stubborn deposits work loose with a soft brush then flush with water or a high pressure spray
Capacity: 2L

Save this product for later